Description
Vegan Stuffed Bell Peppers with herb-infused, cheesy Soya bean-and-rice filling. This is a healthy dinner recipe that will spice up your week. Plus, you can't go wrong with fresh veggies cooked in extra virgin olive oil and garlic.
---
5

– Bell peppers

2 cups

– Basmati rice cooked or rice of your choice

1 cup

– Soya chunks or chickpeas your choice of protein

2 tbsp

– Vegetable oil or sesame oil

1 cup

– Onion finely chopped

2

– Garlic minced

1/2 cup

– Green peas

2 tbsp

– Soya sauce

1/2 cup

– light coconut milk

1 tbsp

– Curry powder

1 tsp

– smoked paprika
Salt and black pepper to taste

1 cup

– Vegan cheese grated
Vegan sauce to drizzle over top
Olive oil for greasing air fry and bell peppers
---
Instructions
Cook basmati rice or rice of your choice according to instructions given on the package. Drain out the water and keep cooked rice aside.
Take 2 cups of hot water in a bowl and soak soya chunks and set aside for 10 minutes as after that the soya will absorb all water and become fluffy. Keep aside.
Heat oil in a pan and add vegetable oil or sesame oil, add onions chopped and saute on a medium flame for 1 minute.
Add garlic minced and soya chunks and saute for 3 minutes on medium flame.


Add green peas, soya sauce. Mix well for 30 seconds. Add light coconut milk and saute for 1 minute.
Add curry powder, smoked paprika, and salt, black pepper powder to taste. Mix well and simmer for 4 minutes on low medium heat.
Add cooked rice and mix well gently. Check if it needs salt and pepper. Adjust accordingly. Stir occasionally.
Turn off the gas and keep it aside.
With a knife cut the lid off all capsicum and remove all the seeds.
Fill in with the rice soybean mixture and top with grated vegan cheese in the bell peppers. Spray olive oil on bell peppers side.
Bake in the oven at 190 degrees C (about 375 degrees F) for about 30 – 35 minutes. Check-in between. If you want to Air-fry them then grease the air fry basket with olive oil then place all the bell peppers at 180 degrees C ( 360 degrees F ) for 20 to 30 minutes. Check-in between after 20 minutes.


Take out stuffed bell peppers and top it with vegan cheese sauce if you like creaminess but I have used normal cheese sauce. Sorry for the eaten part lol I couldn't resist. Serve hot.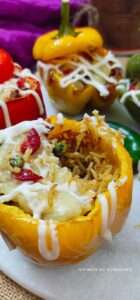 Notes
The stuffing can be prepared up to 4 days in advance and put into an airtight storage container in the refrigerator. When you are ready to cook, you can add it to the pepper halves and bake as directed.



Cooking oil or olive oil will make bell peppers taste better so brush all over them from outside.
Microwave gently or bake at 350 degrees F for 15 minutes if reheating.
You can make this dairy-free/vegan by removing the cheese and covering the baking dish while it finishes its last stint in the oven. I'd recommend making guacamole or cilantro hemp pesto to use as a creamy topping.
While time-consuming, this dish is not difficult to prepare. The rice may be prepared in advance, and the peppers may be prepared in advance so they are ready for baking later.
Use fresh Bell peppers always.
Feel free to substitute an Italian seasoning blend if you have one on hand, or dry basil and oregano can be substituted in place of basil and oregano. I have used curry powder and smoked paprika. You can use your variation.
Category:

Entree

Method:

Baked or Air - Fry

Cuisine:

Mexican
Nutrition
Serving Size:

5 people

Calories:

350 Kcal

Sugar:

11.8 g

Sodium:

450 mg

Fat:

3 g

Saturated Fat:

5 .1 g

Trans Fat:

0

Carbohydrates:

52 g

Protein:

16 g

Cholesterol:

5 g