Description
Navratan Pulao is a tasty and scrumptious dish from Mughlai cuisine in North India recipe for pulao. Navratan Pulao is a nutritious, soothing, and aromatic dish that is rich in nuts, and veggies, and flavored with saffron, floral essence, and whole spices. The flavor of this regal Navratan Pulao recipe will definitely wow your mouth!
---
---
Instructions
Soak rice for 30 minutes and then drain out the water.
Boil water in a pan and add salt to taste.
Now add the soaked rice to boiling water.
When rice is cooked 90% drain the water.
Keep the cooked rice aside on a plate.
Heat 5 tbsp oil in a frying pan.
Add the sliced onions and fry on medium-high heat till golden brown.
Take out and keep aside.
Add the cashew, almond, pistachio, and peanuts. Fry till golden brown.
After golden brown add the raisins and fry for another 1 minute.
Take out and keep aside.
Add Paneer or tofu if vegan and fry for 2 minutes on medium-high flame.
Take out the Paneer or tofu after golden brown.
In the same pan add the potatoes and carrots. Fry till little brown.
Add a little salt to taste and mix.
Cove and cook for 2 minutes.
Open the lid. Take it out and keep it aside.
In the same pan add cauliflower, and green beans, and fry till crisp and golden.
Cover and cook for 2 minutes.
Open the lid and then add green peas. Fry for 1 minute.
Take out all the fried veggies and keep them aside.
Now take a pan and heat 3 tbsp oil on medium heat. You can also add ghee but if vegan optional.
Add bay leaf, cinnamon stick, cloves, cardamom, star anise, and cumin seeds.
Add green chilies and fry for 30 seconds.
Now add the cooked rice
Then add all the fried vegetables one by one.
Add salt to taste.
Now add the Paneer or tofu and mix well.
Add all the fried dry fruits.
Add lemon juice.
Mix properly.
Add plain or vegan milk mixed with saffron strands.
Mix properly.
Add the fried onions.
Cover and cook for 2 minutes.
Open the lid and serve it on a plate.
Navratan pulao is ready to be served hot.
Recommended Products
As an Amazon Associate and member of other affiliate programs, I earn from qualifying purchases. Just click on the below images to purchase.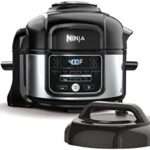 Notes
To prepare Navratan pulao with the greatest texture and fluff, use premium long-grain basmati rice. The rice must be fluffy and distinct between each grain. I particularly enjoy the quality of the Indian Fortune long grain basmati rice that I used in this dish. Please don't make this dish using sticky or short-grain rice.
Take tofu cut into cubes if vegan and vegan milk mixed with saffron strands. If not vegan then go for plain paneer and milk.
Always thoroughly clean and rinse the rice until the water is clear. Always let the rice soak before cooking. For the stovetop recipe, the soak period should be around 30 minutes, and for the instant pot recipe, it should be 15 minutes.
Try not to exclude any of the ingredients from the recipe unless you are trying to make it nut-free or vegan by excluding dairy products because each one adds flavor and texture to the pulao.
Potatoes, cauliflower, carrots, green peas, and green beans are the vegetables that are most frequently used in this pulao. Potatoes are optional, but feel free to include them.
Vegetables shouldn't be overcooked; mushy vegetables would detract from the appeal of Navratan Pulao.
I sautéed the vegetables rather than deep-fried them to keep the low-calorie profile.
Although this pulao only calls for a few whole spices, they are essential and necessary, so do not omit them. These ingredients give pulao the necessary flavors and bind the rice and vegetables together nicely.
Prep Time:

20 minutes

Cook Time:

30 minutes

Category:

Main Course

Method:

Stove-Top

Cuisine:

Indian
Nutrition
Serving Size:

4 people

Calories:

380Kcal

Sugar:

6g

Sodium:

400mg

Fat:

19g

Trans Fat:

0g

Carbohydrates:

40g

Fiber:

4g

Protein:

12g

Cholesterol:

30mg
Keywords: pulao, Navratan pulao taste, Navratan Pulao vs Kashmiri pulao, pilaf